Towards Freight Decarbonisation: Codognotto-Tevva new collaboration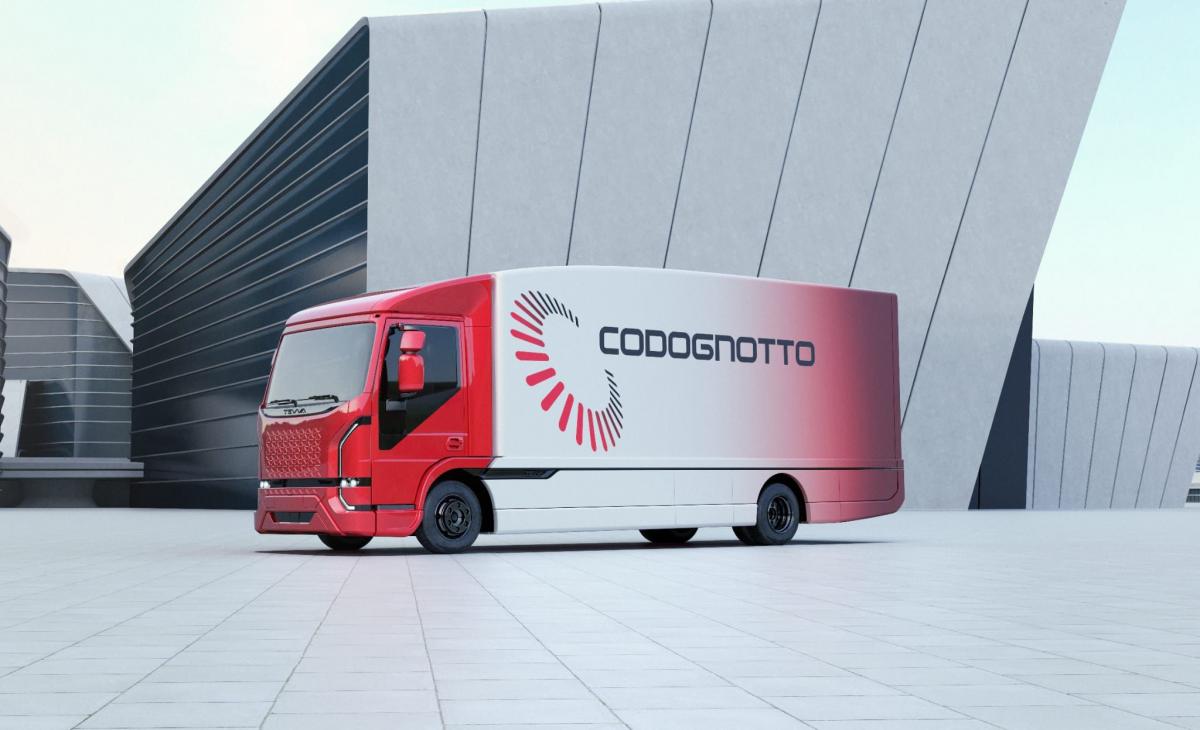 Codognotto Italia S.p.A. - an international company leader in global transport and logistics - and Tevva Motors Limited - a British electric and hydrogen truck pioneer which utilise battery electric and hydrogen range-extended battery technology - announce a new collaboration to test e-mobility on the road. It is Tevva's aspiration to supply vehicles to Codognotto and it is Codognotto's aspiration that, subject to successful trials, Tevva will prove to be a suitable supplier of zero emission delivery vehicles in furtherance of the Codognotto emissions' targets. Codognotto's worldwide requirement for zero emission medium duty vehicles is expected to be 50 in the near future. 
The issue of transport decarbonisation is an urgent priority for governments and companies worldwide as the fight against climate change intensifies. According to the European Environmental Agency, transport consumes a third of all final energy in the EU, with the bulk of this energy coming from oil, and cars, vans, trucks and buses produce over 70% of the overall greenhouse gas emissions generated by transport.
In line with the objectives of The European Green Deal and the "Fit for 55" climate package, Codognotto and Tevva believe that zero emission vehicles are the solution. The two companies met at the roundtable of ALICE (the Alliance for Logistics Innovation through Collaboration in Europe- ETP LOGISTICS). This has culminated in the shared objective to prove the operational, commercial and environmental effectiveness of Tevva Trucks for Codognotto shipments through a testing and evaluation programme. 
Tevva has recently installed data logging equipment in Codognotto's current delivery vehicles. These are in regular service, and the data being gathered includes distance travelled per day, fuel used, shift duration, average speeds. This will enable Tevva to create a set of benchmark requirements that will inform the development of an "Codognotto Duty Cycle". Based on collected data, Tevva will create prototypes and production vehicles which will match the duty cycle of current Codognotto trucks on the road.
"This is a great opportunity not only for us, but for the entire logistics and transport sector.
In the past it was the carrier who adapted to the available solutions, today they are created according to specific needs - a small revolution that is having a huge impact on the market. For us, the theme of sustainable logistics is concrete, and we are always looking for new solutions, projects, and collaborations. With Codognotto Austria we are participating in the European e-SMART project aimed at the e-Mobility Smart Grid for passengers and freight transport of the last mile in the Alpine Space. The collaboration with Tevva is certainly in line with our activities at European level and with the green vision undertaken by the Group several years ago." – Matteo Codognotto, Marketing & Innovation Group Director. 
More information on the official websites: 
http://www.tevva.com
http://www.codognotto.eu/en