Launch of a rail service between Italy and Poland for freight transport.
Codognotto Group - one of the main operators in the field of logistics and transport with 22 companies in the world, 30 warehouses and 950 employees - has launched in these days a highly innovative intermodal service with the activation of a freight railway between Italy and Poland.
Every week, on Monday and Thursday morning from Poland, on Wednesday and Saturday morning from Italy, leave trains of 1,300 tons each one (550 meters consisting of 37 charged units of 45"), connecting Piacenza to Lodz (PL) city. The transport takes place in less than 42 hours, with constant monitoring, throughout the rail route, to provide customers with information on the positioning of the train in all transits of the state borders.
Within the first quarter of 2016 the plan includes the addition of a third train, so as to lead the current weekly departures from two to three round trips.
Freight train move goods from steel industry, paper, plastic, wood and wood products, household appliances, not refrigerated food and chemicals, with the possibility of transport dangerous goods and waste under the system of ADR and CER.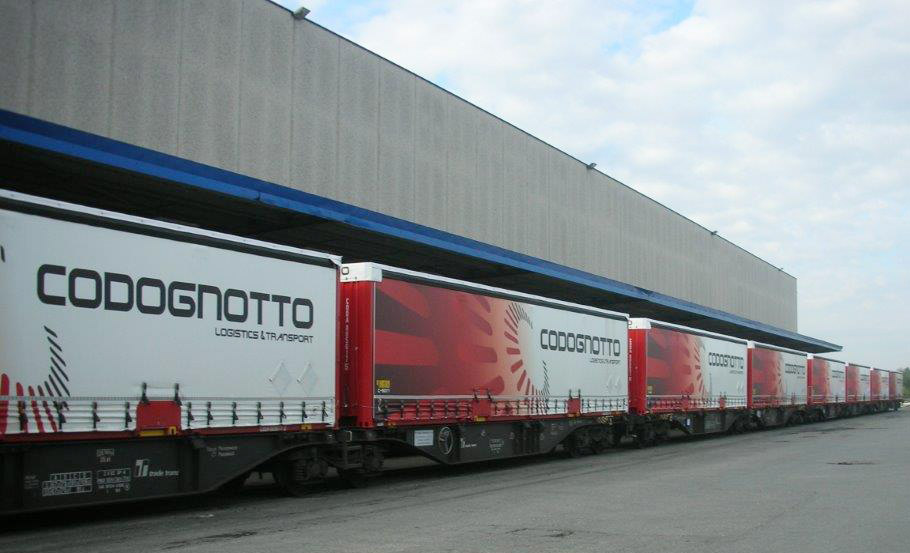 Codognotto Spa has done heavy investments in equipment for the realization of this project (Swap Body and 45" Container Box, 6mt and 7.20 mt Portacoils), in order to be able to offer to business customers the solution and the most appropriate, reliable and secure mode of transportation, complying with the environment.
On an average route of 1300 Km, this service, compared to land transport, is able to drastically reduce air pollution by reducing CO2 emissions by 60%. Every week this rail service will replace, in terms of load capacity, the amount of about 150 trucks.
The service is addressed to companies that have, or are going to take up, a path of business growth complying with the environment; it has been designed to be safe and reliable in terms of both quality and quantity, characterized by a certain planning and finally it provides the ability to firmly and default manage the component costs for the entire calendar year.